Welcome
Welcome to the Munto Wiki
This wikia started since May 7, 2011
This Munto Wiki is currently under redevelopment due to incomplete information and blank pages. Keep in mind that while enjoying the new pages there will be a lot of
Spoilers
, so read at your own risk.
Please tell everyone about the New and Improved wiki
News
May 7, 2011 the Munto wiki is created
The first Ova is released on March 18, 2003
January 14, 2009 the first episode aired
April 18, 2009 the movie aired
May 19, 2013 Munto Wiki begins redevelopment
Featured Episode
<center>Knowing

"Shiru Koto"

Yumemi heads to school with an umbrella propped over her head to block her view of the sky and meets ups with her friend Suzume and Ichiko. A war rages in the magical world and Munto is sent to the lower world by Gass and seeks help from Yumemi. At school Suzume announces that she'll marry her boyfriend, Kazuya, the next day. Yumemi and Ichiko are worried and see what king of guy Kazuya is. The episode end with the United Army Headquarters, lead by Gntarl, bringing out a gold combat automaton to chase Munto in the lower world.
Featured Character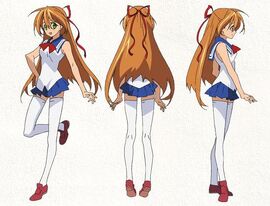 Yumemi Hidaka
Yumemi is the main character of the series. She is also the only one who can see the "floating islands" in the sky. Yumemi always carries a pink umbrella to hide her view of the sky since she feels her powers makes her different. She has a passionate and dreamy character.(Read More...)
Community content is available under
CC-BY-SA
unless otherwise noted.